About the SNAAP Accreditation Toolkits
One of the many institutional uses of SNAAP data is for planning and assessment, including regional and specialized accreditation. (Other uses are described here.) SNAAP results can be meaningful indicators of educational quality and can be used in planning as well as for documenting institutional effectiveness, guiding improvements, and assessing their impact. SNAAP data show the level of skills and competencies learned in school by students looking back after graduation, as well as the importance of those skills to their current work. Qualitative responses also provide insights into their educational experiences.
A successful accreditation plan is authentic to each institution or program. An important step in developing any accreditation plan, however, is identifying the existing evaluation practices and the evidence from them that can be linked to accreditation standards, commitments, and/or criteria. These accreditation toolkits offer guidelines for aligning SNAAP survey items with accreditation standards. A team of SNAAP staff members reviewed accreditation standards for each accreditation organization and mapped SNAAP survey items to those standards that we thought corresponded. Our hope is that this alignment encourages institutions to consider various ways to integrate SNAAP data into accreditation processes, beyond simply mentioning SNAAP as an element in systematic assessment activities.
These toolkits, then, are not intended as a strict formula for relating SNAAP results to accreditation standards but, rather, as a stimulus to think more broadly about how these data can provide evidence to support specific standards. SNAAP findings can also be used to support and document institutional improvement efforts but will be most meaningful when coupled with other measures of student learning outcomes for your campus.
The alignments suggested are not required for accreditation, and are independent of the accrediting bodies themselves. The alignments should be considered as merely a tool to provide institutions a reference to how your SNAAP data can be useful in telling the story that your institution needs to tell. Like any tools, they should be used reflectively, as an alternative lens, in order to expand understanding of the work of your institution. Not all standards may apply to your institution.
Regional Accrediting Agencies
Regional accreditation map: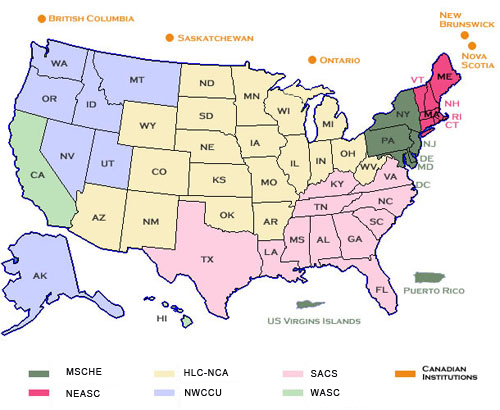 Arts Accrediting Agencies
If you are interested in viewing an Accreditation Toolkit for the National Association of Schools of Art & Design (NASAD), National Association of Schools of Music (NASM), National Association of Schools of Dance (NASD), or National Association of Schools of Theatre (NAST), please contact the SNAAP staff at snaap@indiana.edu.